Christie Gardens History
A need identified, a community established, and a dream realized!
In 1984 Christie Gardens began its journey as a unique residential retirement community. Mr. David Alexander, Founding President and Chair of the Board until his retirement in 2012, and his friend and colleague the late Mr. William Wilkie, had been concerned for some time about the challenges faced by their elderly friends and family members.
Men of action and strong personal Christian faith, they developed their dream; a place where seniors could enjoy flexible accommodation and services for the rest of their lives: a continuing care community.
1983
Identified 600/602 Melita Crescent as the site for the continuing care community
The CMHC Housing 56.1 funding project for not-for-profit seniors' housing approved the plan and insured the mortgage.
1984
The Ministry of Health of Ontario approved the purchase and transfer of 88 nursing home licenses.
Welcomed our first residents to Christie Gardens Apartments and Nursing Home.
In August Christie Gardens opened its doors to 88 nursing home residents and staff.
In October the 217 apartments were ready for residents. Our reputation as an excellent option for seniors emerged rapidly and the community was fully occupied within the first year.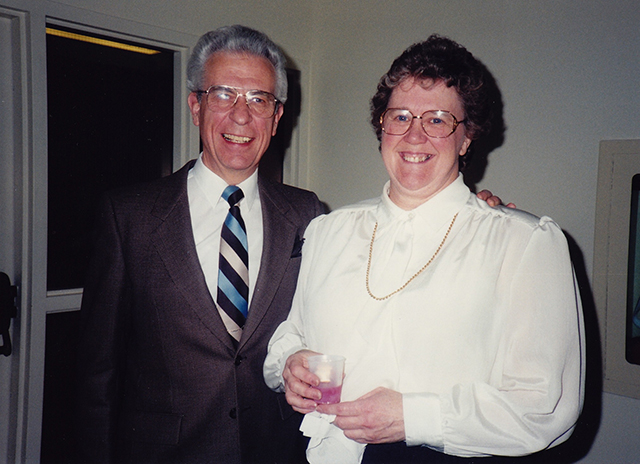 1985 – 1995
In 1985, Established a small retirement home on Floor One as part of the community. We called it "ResCare", though it would later become known as Assisted Living.
In 1987, Grace Sweatman hired as Administrator.
Refined the services, selected and trained staff to meet high standards, establishing the culture of the community.
1997
The Ministry of Health introduced Community Care Access Centres (CCACs), a government operated placement service for access to nursing homes, now identified as Long Term Care. 43 CCACs were established in Ontario to "provide simplified access to home and community care; deliver and make the arrangement for the delivery of home care services to people in their homes, schools and communities; provide information and referral to the public on community-related services; and authorize admissions to long-term care homes."
1999 – 2003
Renovated and revitalized the original building through the addition of 84 Life Lease Suites, marketed as The Terrace at Christie Gardens.
2003
Welcomed Life Lease residents to The Terrace at Christie Gardens.
2005
"Country Lane 2005" Mural completed on Christie Street by a team of residents, volunteers, and Councillor Joe Mihevc.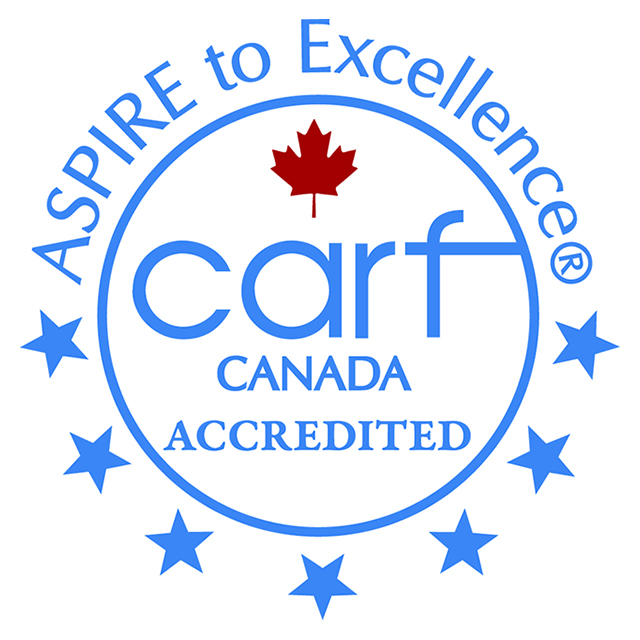 2006
First in Canada to earn CARF accreditation.
42 CCACs amalgamated by the Ministry of Health into 14 newly formed Local Health Integrated Networks (LHINs) which were established with a mandate to plan, fund and integrate health care services in their regions.
2008 – 2011
Undertook a strategic analysis and consultations in order to determine the action needed to assure access to care, if and when needed, thereby sustaining the original dream.
Phased out the Long Term Care beds and established a self-funded Care Home: "The Courtyard Community".
2012
David Alexander retired as Chairman of the Board of Directors. Stuart Hartley elected as Chairman.
Identified the critical need for a new model of service for our Elders.
Launched a Capital Campaign to support a major physical plant renovation and culture change initiative.
Celebrated the opening of "Seaton Village", our second redesigned neighbourhood in the Courtyard.
2012
Celebrated the opening of "The Annex", our first redesigned neighbourhood in the Courtyard.
2014
Grace Sweatman retired from position of CEO and becomes President of The Christie Gardens Foundation.
Heather Janes promoted to CEO.
2014
Celebrated our 30th Anniversary!
2015
Celebrated Grace Sweatman's 30 years of service.
2017
Selected the EDEN Alternative as a model that felt consistent with our philosophy – became an EDEN Registered Home.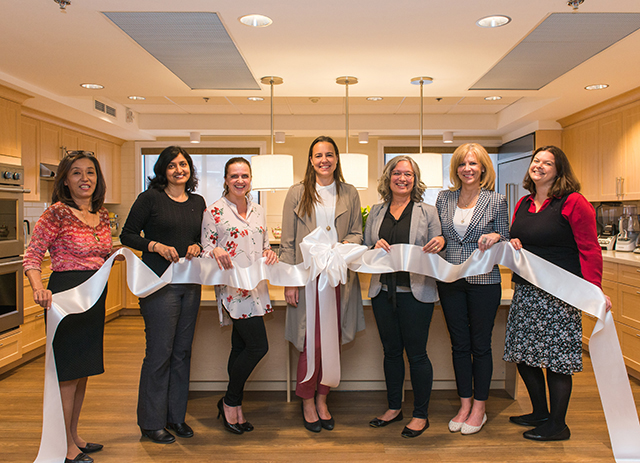 2015
Launched the Christie Academy, our training program for all staff.
Celebrated the opening of "Cedarvale Park", our third redesigned neighbourhood in the Courtyard.
Launched "Let's Keep Moving!", our fundraising campaign to develop a ground floor fitness and physiotherapy centre.
2019
Celebrated our 35th Anniversary!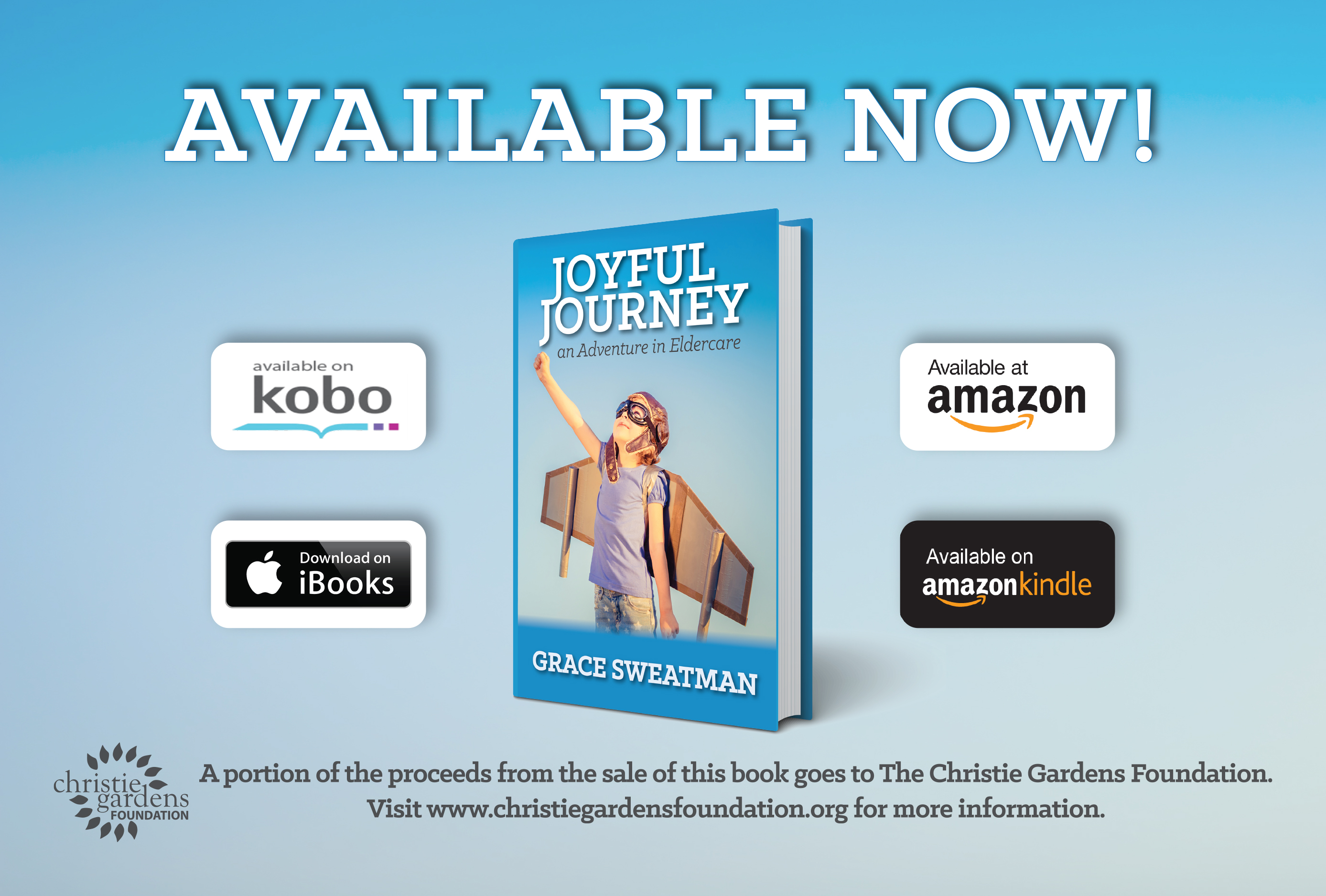 2019
"Joyful Journey: an Adventure in Eldercare" is published. After a forty-year career in eldercare, Grace Sweatman has stories to tell! From receptionist to CEO and nearly every role in between, Grace has a truly rare perspective on this growing service industry. In this book, Grace shares some of those stories from her "Joyful Journey" and the lessons learned along the way. In the closing chapters, she draws a roadmap to achieving a much-needed culture change in long-term care. From the beginning of her career, Grace recognized deep flaws in the services extended to our elders at their time of greatest need, and this heartfelt concern drove her to seek meaningful solutions. With great passion, she has been unrelenting in her efforts to see them implemented. Grace believes there is indeed a better way. She is trusting that this collection of memories will encourage others in their personal journey, whatever its destination.
2020
Responding to the COVID-19 pandemic, The Christie Gardens Foundation established a Staff Care Fund to assist Christie Gardens staff with costs associated with living in isolation away from their families.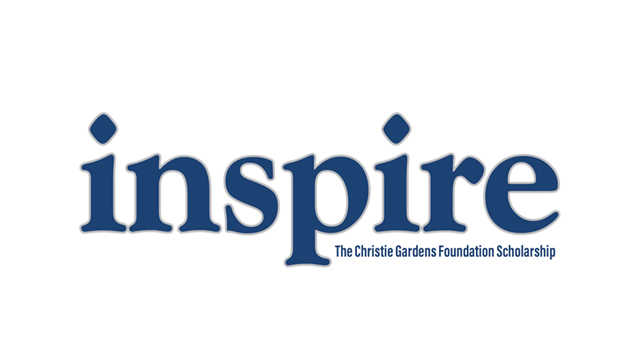 2022
The Christie Gardens Foundation Scholarship "Inspire" is launched to encourage staff and their families to pursue continuing education in fields related to elder care.